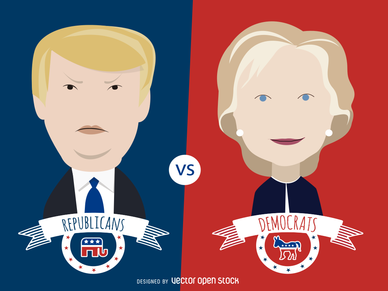 In the dust-up of this election year, education settled near the bottom of the heap of news headlines. Before the final presidential debate, a Politico banner read, "Will Trump and Clinton Ever Debate Education?" Both candidates have education policy proposals, but these ideas have been buried under column inches devoted to hacked emails and sordid trysts.
Education may not be in the headlines now, but learning is front and center for parents and families across the country every day. And no matter who is elected, states and the federal government stand to ask taxpayers for another $600 billion or more next year to cover the educations of some 50 million students.
So, what could Donald Trump and Hillary Clinton's education proposals mean for taxpayers and parents?
In September, Donald Trump announced that he is in favor of school choice. Before we celebrate, know that Trump volunteered taxpayers to pay $20 billion to provide more choices in education for low income students. The money will purportedly be repurposed federal funds—not requiring new money—yet this proposal is a stretch.
The largest portion of federal money for K-12 is directed by Title I of the Every Student Succeeds Act (ESSA), Washington's education law, and totals approximately $15 billion, a figure close to the amount Trump plans to redirect. Last year, Congress fought for months over whether Title I could be repurposed as a school choice option for families. The proposal eventually failed.
Thus, Trump says he can do what Congress couldn't with a significant sum of federal education money. Herein lies the problem with federal officials trying to meddle in issues best left to states, like education: It's easy for a Washington lawmaker to overestimate his ability to build consensus around ideas he may like and underestimate the drudgery of the deliberative process.
Such drudgery has a purpose, namely to protect individuals and their interests by requiring lawmakers to engage in intentional, consensus-building efforts first. Even if he can build a consensus in Congress, Trump would have to convince state leaders that his idea would not interfere with states' school choice programs, like Georgia's tax credit scholarships or Special Needs Scholarship Program.
Furthermore, regulations inevitably follow money from Washington. President Obama signed ESSA in December 2015, and education officials around the country are still deciphering what the law means for states. We may not see the full litany of regulations until November, nearly a year after Congress voted on the law and the president made ESSA official.
Hillary Clinton has designs on more taxpayer money at the pre-kindergarten, K-12, and postsecondary levels. She plans to require taxpayers to pay for preschool for all 4-year-olds, regardless of a child's learning needs at that age; spend more taxpayer money on computer science and school facilities; and allow taxpayers to pay tuition for college students coming from families making $125,000 or less.
While Trump's promises are too broad to help states' different needs (and expensive), Clinton's are too specific (and also expensive). The job market changes too fast and Washington moves too slowly to adequately forecast future needs. Meanwhile, ideas like more money for school buildings are hardly innovative but surely expensive. The Wall Street Journal's Daniel Henniger wrote recently that Clinton's campaign promises amount to "pouring more federal money down the public-schools mine shaft."
Regardless of what happens November 8, parents and state lawmakers should not expect the White House to solve the problems presented by only 37 percent of high school seniors being prepared for college work. Parents need quality opportunities to prepare their child for the future, whatever it may hold. State lawmakers should continue to broaden students' horizons with education savings accounts and individual course choice options and protect existing learning opportunities like charter schools and private school scholarships.
Lawmakers' responsibilities—especially state lawmakers' responsibilities with respect to Washington—are to protect individual liberties and restore them as needed, no matter who sits in the Oval Office. Or perhaps because of who sits there.
Jonathan Butcher is a contributing scholar for the Georgia Center for Opportunity and Education Director at the Goldwater Institute.
The opinions expressed herein are those of the author and do not necessarily represent the opinions of the Georgia Center for Opportunity and are not intended to aid or hinder any political campaign or the passage of legislation before the US Congress or the Georgia General Assembly.