Meet Healthy Families Initiative Certified Trainer Shay Marlowe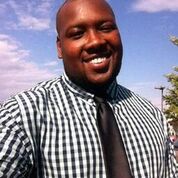 "Life's most persistent and urgent question is, 'What are you doing for others?'"
Shay is a graduate of Duluth High School and Michigan State University. After obtaining his bachelor's degree in 2006, Shay returned to Gwinnett to work fulltime at the Gwinnett Children's Shelter and as a volunteer at the A. Worley Brown Boys and Girls Club. Shay was named "Volunteer of the Year" at the Brown Boys and Girls Club in 2007 and went on to become a mentor for Big Brother Big Sister of Metro-Atlanta.
During his time at the Gwinnett Children's Shelter, Shay facilitated fatherhood classes, using the "24/7 Dad" curriculum, to teenage fathers from Gwinnett County high schools and a group of fathers serving their final year of incarceration at Philips State Prison in Buford.
When Shay is not facilitating classes for Georgia Center for Opportunity, he can be found helping local veterans obtain jobs as part of his fulltime work at Goodwill of North Georgia. Shay continues to be a mentor for Big Brother Big Sister and he enjoys playing sports in his free time. His favorite quote comes from Dr. Martin Luther King Jr. "Life's most persistent and urgent question is, 'What are you doing for others?'"
Many Georgia families are struggling relationally and financially. Divorce is common, and cohabitation and unwed childbirth are on the rise. Even many families that remain intact struggle to cover basic living expenses. You might not know where to begin to help.
The Healthy Families Initiative (HFI) is a community-based collaboration between individuals, churches, and businesses focused on transforming relationships and families in the Norcross and Peachtree Corners area. Our goal is to increase healthy relationships, family formation and stability, and decrease childbearing outside of marriage.
For more information about the Healthy Families Initiative (HFI) or to register for FREE classes, visit https://foropportunity.org/initiatives/hfi/