Why crime in smaller cities like Columbus matters
Key Points
Reducing crime and restoring community safety is vital to addressing poverty and increasing opportunity.
While major metro areas are typically the focus of crime reduction efforts, there is a need to address crime in smaller communities seeing an uptick in crime.
Columbus, GA has seen an increase in violent crime over the last 5 years.
The Columbus community and municipalities must come together to address crime and work on preventative solutions.
We know that crime in major metro areas across the United States is up. Here in Georgia, Atlanta is front and center on that issue, highlighted by a recent report by the Georgia Center for Opportunity showing a concerning rise in violent and property crime over the last few years.
While the crime problem in larger cities is crucial to address, smaller cities tend to get overlooked. Yet these cities represent a large portion of the country's population. There are 335 cities with population levels between 100,000 and one million, but only 14 cities with populations over one million.
Take Columbus, Georgia as an example. The city's population now stands at approximately 203,000—a slight reduction from 2020 when the population was 207,000. Since 2017, Columbus has seen a spike in crime.
The crime problem—and what to do about it—is the focus of a new GCO report. Titled "Reducing Crime in Columbus: Safer Communities Through Policy," the report is authored by Josh Crawford, Director of Criminal Justice Initiatives at GCO.
Quick Facts on Crime in Columbus
Columbus saw one of its most violent years with 59 murders in 2021.

The city's population is on the decline, correlated to the rise in violent crime.

A decrease in Columbus police has gone hand-in-hand with the crime spike.

Attempted murder convicts in Columbus who were released in 2022 only served 35% of their time.
"The human cost of this violence is dramatic, cutting lives short and leaving behind grieving families and fractured communities," Crawford said. "The toll of violent crime goes beyond the physical cost to those directly impacted and includes financial costs to victims and taxpayers, the loss of productive years, and decreased economic mobility and growth in communities afflicted with high rates of crime."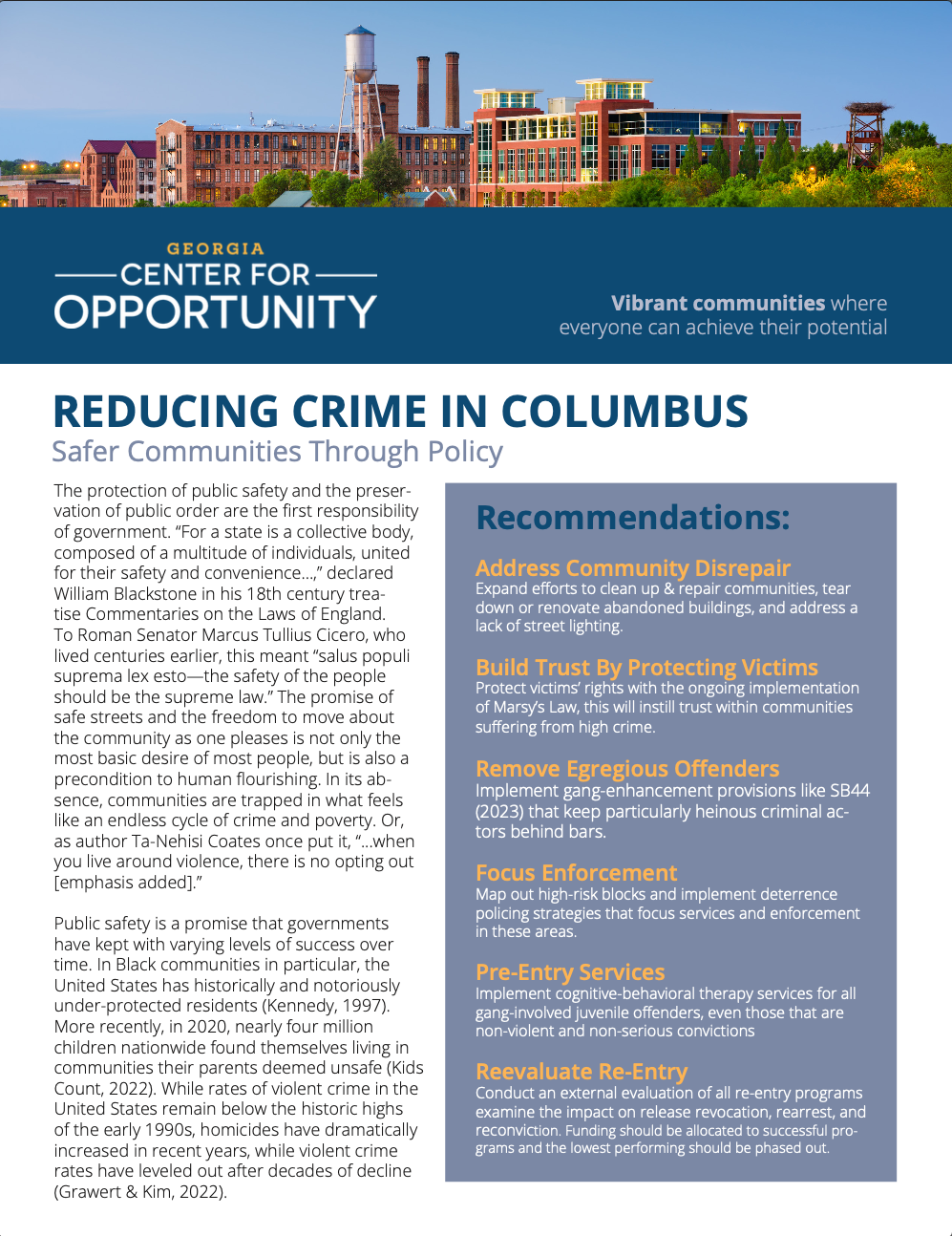 Access the Report:
Reducing Crime in Columbus
Our Columbus Crime Report details six practical solutions that city leaders can use to reduce crime in Columbus and restore safety, hope, and opportunity to the broader community. 
Why Smaller Cities Matter
Our focus at GCO is on empowering underserved, disadvantaged, and low-income communities. By starting with Columbus, we want to equip more of these overlooked cities across Georgia and the U.S. with policy reforms that will reduce crime and restore community safety. 
Six Policy Recommendations to Reduce Crime
Because Columbus is smaller, it's easier to implement changes that would make a big difference. Success in Columbus could provide a model to inspire change in similar-sized cities.
Fixing the Columbus crime problem is about focusing on the most violent offenders. By addressing gang-related violence and solving more homicide investigations, Columbus can restore community safety, improve trust with city officials and law enforcement, and expand upward mobility and opportunity for residents.
Crawford suggests:
Addressing disrepair in Columbus' communities by expanding cleanup efforts, tearing down or renovating abandoned buildings, and installing adequate street lighting.




Building trust between community residents and law enforcement and social services, particularly through protecting the rights of victims.




Removing egregious offenders from communities by implementing gang-enhancement provisions such as SB44 (2023) that keep these individuals incarcerated.

Improving and requiring pre-entry cognitive behavioral therapy services for all juvenile offenders, no matter how non-violent their offenses.

Reevaluating reentry programs through an external third party, examining the impact on revocation, rearrest, and reconviction.