Redemption and renewal in Georgia
Truth Graf's story of addiction recovery, incarceration and beginning anew.
Truth Graf, now a Peer Recovery Specialist for Fulton County,Atlanta, GA, says on first sight that she "sticks out as the older woman with purple hair!" She is a criminal justice advocate, addiction recovery peer specialist, breast cancer survivor, and true fighter. But before this chapter of her life began, Truth was the PTA President, full-time mom of 3 children for 16 years. She had a family, a marriage and a home. But all that changed when her husband wanted a quick divorce to start a new life with his coworker, a neighbor and friend Truth helped get the job with her husband.
Truth had no current work or credit history and struggled to make ends meet after the divorce. She graciously signed a "balloon mortgage, interest only loan", grateful to have a home for her children. She earned her Realtor license but then came the 2008 recession/ housing crash with all the home foreclosures in the newspapers now up for auction. Truth herself was among the victims of mortgage fraud and desperately found herself financially drowning, "The balloon mortgage kept going up and up and I had no means to meet its demands' ' she said.
"I just crashed and burned"
Truth turned to cocaine to cope with the stresses of her resentful divorce and mounting debt, and found herself caught in an unrelenting addiction. "I just fell into it, crashed and burned my old life… I felt hopeless and couldn't see a way out of addiction and spent thousands on the drug's quasi-comfort", Truth recalls. As a solution, falling further into financial distress, her boyfriend at the time suggested she burn down her own home for an insurance payout to solve everything– "out of desperation," they did.
"NEVER would I have done such a stupid, desperate thing as upending my children's lives by everything going up in flames if I was a sober mother. I didn't know there were real community resources out here wanting to help me, like Georgia Center for Opportunity; but when you're in the throes of addiction and desperation you feel so ALONE."
"I begged the judge to please allow me the drug addiction-recovery help I needed at an Inpatient treatment program, at my own expense; as I had already been locked in a jail cell for a traumatic 16 months, away from my children. I thought, 'What more do they want me to suffer?', Truth recalls. The DA just laughed at me. "Oh No! Now, I'm going to send you to prison for years!"
"I was made the example of what NOT to do if your home went into foreclosure during the 2008 market recession crisis." Truth says. At age 48, suffering from drug addiction, Forsyth County sentenced Truth to the maximum arson punishment: 20 years to serve 12 years in prison and then another 10 years on probation for her drug possession: 30 years, despite it being her first offense.
Thankfully, Truth mustered the courage and determination to find a path to recovery a few years into her lengthy prison sentence and finally found the peace she'd been searching for. It was an inward journey and she realized, " I've got to let this resentment toward others GO; that I was as much to blame, and that's what gave me the power to mentally and spiritually recover."
"I'm so proud of all of them"
Life outside of prison walls
After serving 7 years in prison, she was finally released and passionate for justice reform. But returning to society wasn't easy, job opportunities were nearly nonexistent –With a felony conviction on her record she faced constantl job discrimination.. But at least she could see her kids again. "Even when I was at my lowest and were taken away from me, we've always been close. I'm so proud of each of them," Truth said. "But because I couldn't get drug treatment instead of 7 years in prison, I missed all 3 of their high school graduations but was finally able to be there for their college graduations! So proud!"
Following her release, Truth went to work bringing the resources that weren't available to her, at her lowest, to others in the community. "I had the opportunity to open a peer recovery support center, in Forsyth County, Truth's Place, the first ever in that county." There were group meetings, one on one peer support, people coming in off the street, coming out of jail, all free of charge. Unfortunately, she had to close its doors due to funding issues.
She now brings that same spirit to her work as a Peer Recovery Specialist for Fulton County Superior Court, helping men and women avoid prison, through their drug court recovery program.. "I work with them at Hope Hall Treatment Center in Accountability Court, providing drug treatment, and resources for housing, clothing, GED, and job training opportunities.",she said. "When they graduate our 18-24 month program, they're fully integrated into the community for the first time in their lives, contributing to society and drug free!"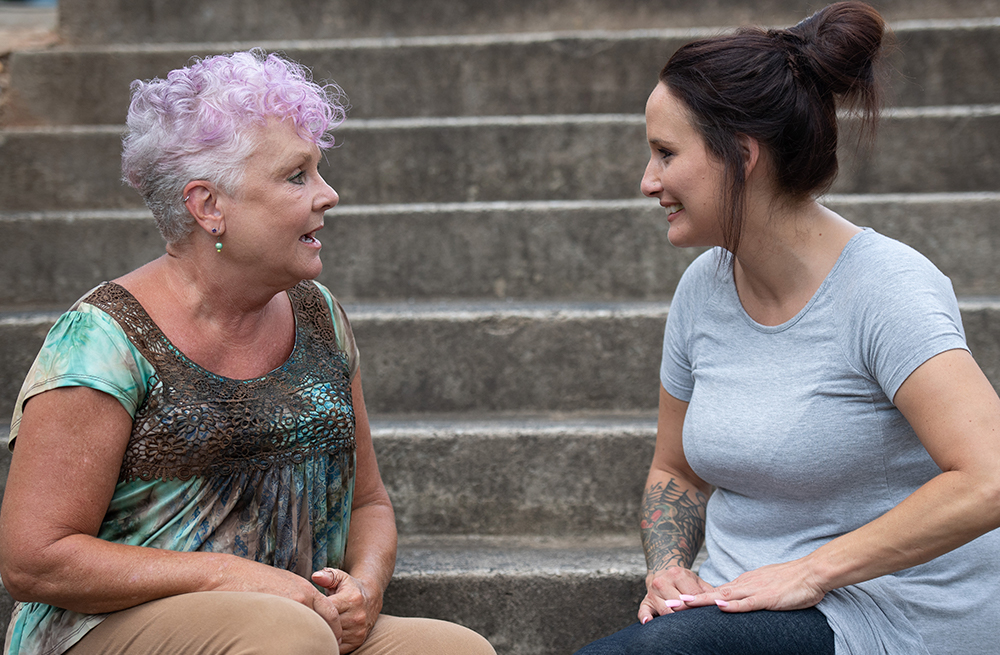 Giving back
Helping others find their purpose and bring their lives back on track "is a high better than any drug," she said. "I realize how far down I went, and those experiences I survived can now serve to help others. I didn't think I had a purpose, but now, just to hear people say 'thank you for walking me through this journey of recovery' …it is totally soul gratifying, that just affirms I'm doing the right thing," Truth added.
Her own experiences and employment troubles pushed Truth to get involved in justice reform activism. "Having a felony alters your entire life, I can never vote now… I realize how unjust many of the laws of Georgia are and there's still so much criminal justice reform to be done," she said.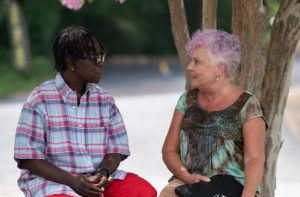 "I eventually learned about Georgia Center for Opportunity and the work they are doing on criminal justice reform through Georgia Prison Fellowship, through Tony Kitchens," Truth said. In 2015, the Georgia Center for Opportunity helped push the Ban the Box initiative for prospective state employees, which removed the question about felony convictions on job applications for the state of Georgia – opening doors to many formerly incarcerated Georgians looking for work.
But the path to reform doesn't stop there. Even though prospective state employees aren't initially asked the question anymore, most job applicants still must honestly tell their story to prospective employers.. "People are faced with the dilemma, do I lie, or do I disclose and face the inevitable rejection! Real progression is when the employers give us a second chance" Truth said. "We still have a lot of work to do on this front."
At the same time, there's been a significant shift toward change, and the winds are blowing in favor of structural criminal justice reform. "There's the realization that addiction isn't a crime, it's a mental health issue, it's a disease," she said, optimistic about the direction criminal justice reform is headed. "They finally realized that incarcerating people for addiction is just putting them in a cage and the problem is still there."
"I used to be taken [to the courthouse] as a prisoner in an orange jump suit in handcuffs, but now when I walk through the doors it's a whole different story… now when I go to the Forsyth County Courthouse, I go to advocate for people in addiction recovery." Truth said, reflecting on her journey to redemption and renewal following addiction. "As a court advocate for people in recovery, I'm standing in front of the very judges who sentenced me, testifying how my clients are trying to get whole again… it's full circle, that's the best way to describe it."
"now when I walk through the doors it's a whole different story. Now…I go to advocate for people in addiction recovery."