The Power of Second Chances
By David Bass
Imagine stepping from a life of homelessness characterized by desperation and deprivation to a full, rich life in which you can contribute and build a future.
That was Jonathan's story of transformation. As a graduate of CKS Packaging's Second Chance Program, Jonathan went from homeless to employed in an entry-level job with a solid upward trajectory, allowing him to support his family,  save money for the future, and continue job training and education.
"What the Second Chance Program did was provide discipline, provide structure, and provide a lifeline," Jonathan shared.
We love stories like these because they demonstrate so vividly this truth: When people are desperate, they need a sense of control over their lives. Without it, they are more likely to fall back into old bad habits and ways of doing things, such as substance abuse, crime, and homelessness.
A job with an upward trajectory is a key way to restore control and confidence in someone's life.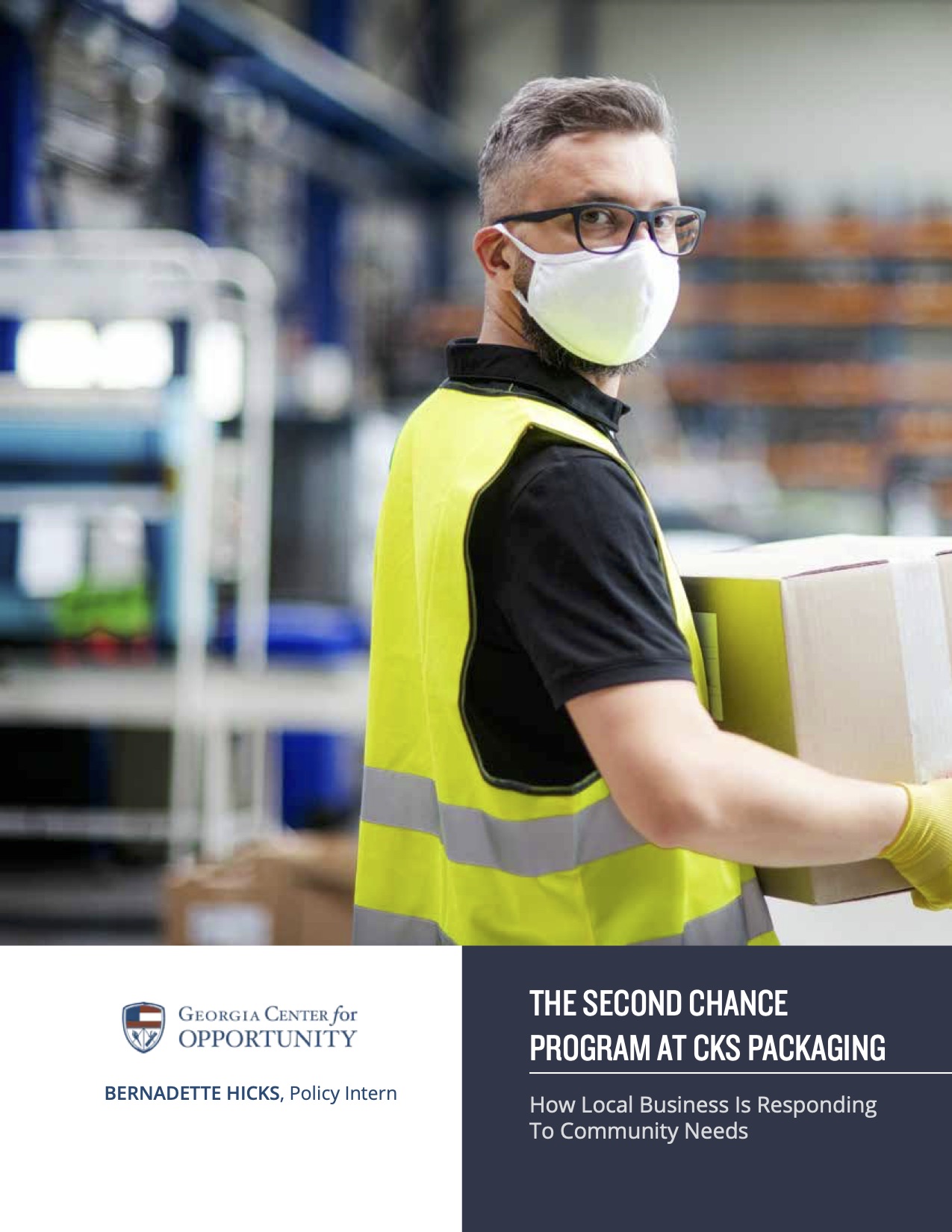 Find out our full analysis of this
Second Chance Program.
A second chance
CKS Packaging is an Atlanta-based company that manufactures plastic containers for such clients as Coca-Cola, Chick-fil-A, and Kroger. The company created the Second Chance Program in 2016 to partner with service organizations in the Atlanta area with the sole purpose of recruiting struggling individuals who need a second chance at employment. 
Georgia Center for Opportunity recently published a research report on the impressive results from the Second Chance Program.
According to Lloyd Martin, the VP of manufacturing and leader of the Second Chance Program at CKS Packaging, many service providers in the community deal with surface issues without addressing the root cause of a person's problem. In contrast, the Second Chance Program recognizes that a job, and the stability it provides, is a vital plank in rebuilding a foundation for a fruitful life.
Another graduate of the program, Greg, shared that Second Chance provided him a job after hundreds of companies had rejected him due to his criminal record. "When so many other people have said no to you, and then someone steps up and gives you a chance and has faith in you, it makes you want to give it 150% every day," Greg says. He now plans to stay with the company until retirement.
CKS Packaging didn't just provide a second chance for Greg. It provided a career.
Doing good while making a profit
CKS Packaging and the Second Chance Program show that it's possible to do good business while doing good for the community. In fact, they go hand in hand.
According to CKS Packaging, the Second Chance Program has allowed the company to fill the gap in labor they were facing with long-term, dependable employees who otherwise may have not gotten a chance to turn their lives around. In the last five years, the company has hired 473 people through the program.
That impact extends beyond a company's bottom line and individual lives to enrich an entire community.
To learn more about what Georgia Center for Opportunity is doing to help get Georgians back to work check out our Hiring Well, Doing Good initiative.