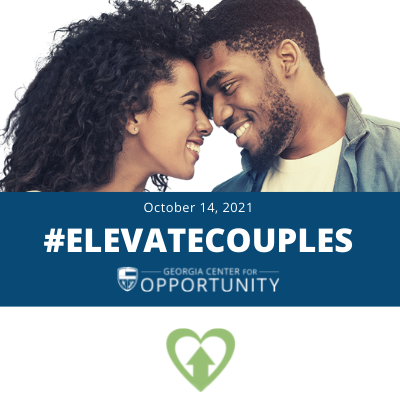 Q&A with Curtis and Tonika on their experience in the Elevate class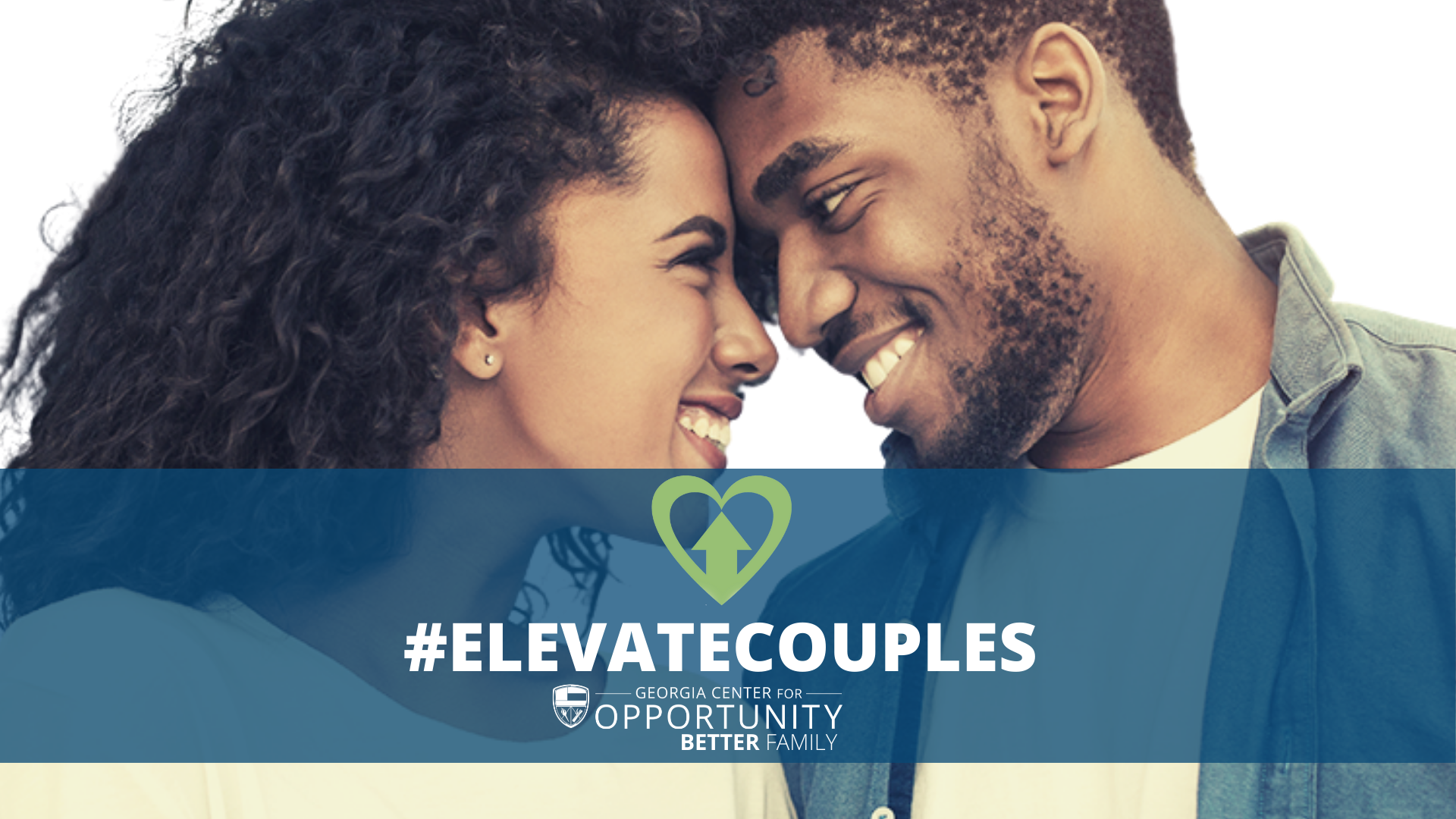 The COVID-19 pandemic has put stress and strain on peoples' relationships like few other times. In this challenging environment, the Georgia Center for Opportunity has stepped up to be involved in a new series of relationship enrichment classes called Elevate for Couples.
Below is a Q&A with Curtis and Tonika, two graduates of the Elevate class who share their experiences and takeaways.
Q: Please introduce yourselves—your background, current work, and family life?
Tonika: We are a mixed family of five children. We've been married for two years in June and we dated for three and a half years. We met through a mutual friend, my son's barber. When I met my husband, he had custody of his four children from a previous marriage. So he brought four to the team and I brought one. It took me a while to get over the whole shenanigans of the kids, but we were friends.
What won me over was just watching him with his children just take care of the spiritual, education, just everything. I watched him do this effortlessly. He has a heart of gold, because most people would run away.
For work, I've actually been a nurse practitioner for about two years. I've been a nurse for 16 years. We recently moved to the Atlanta area about almost two years ago now. We come from middle Georgia in Macon and Milledgeville.
Curtis: I did accounting for 15 years and then I transitioned about three years ago into chaplaincy. So I'm a chaplain for a hospice company here in Atlanta.
Q: Heading into the Elevate class, what were some of the most significant challenges and stressors in your relationship?
Curtis: For me, the biggest thing was striving to navigate through a blended family. I was hoping to gain some insights on how to navigate that in a healthy way. That was really, really important to me. The class did offer me some insights that I was able to extract. Marriage within itself is a challenge, coupled with children is another challenge. But in a blended family, they don't teach you that in school.
Tonika and I are similar in our love for Christ, in our career aspirations, and things of that nature. But our biggest struggle is the blended family component when it comes to the children.
Q: What parts of the Elevate class did you find most useful?
Curtis: What was most useful for me was the opportunity to reflect upon myself—just the place and space that I am in as an individual. That matters a lot. Because at the end of the day, I have no control over what comes out of somebody else's mouth or the actions that they choose to display. But I do have complete control over how I respond and the things I choose to do. So each session afforded me the opportunity to just reflect—what are my growing areas? What am I missing? What are my blind spots?
Q: Of the seven core relationship skills and qualities for success, which one did you find most impactful for your own relationship?
Tonika: For me it was "engage." It's easy to forget about engagement with a busy day-to-day life. For me, it helped remind me of what's most important. You have to make it a priority or it'll just be on the list.
Q: Overall, how did Elevate improve your relationship?
Curtis: It afforded me a better understanding of Tonika. Just pausing enough to even consider her perspective. I think that was big for me. I honestly try to do that and she'll be the first one to tell you I get it wrong a lot. I can make my mind up about something really fast. I'm very flexible, I'm very optimistic. One of my excuses is that I don't make excuses, I make adjustments. I make it work. That's just how I've been raised. But I can't automatically project that onto Tonika. I have done that in the past, and it's 100% wrong of me. Now, I consider her thoughts, her framework, and her narrative.
Q: What are your future goals and plans?
Tonika: I want us to continue to build, to continue to grow, continue to understand each other. Just grow individually and collectively in marriage. Always seek to better ourselves and our marriage. There is no cap to that—we'll never get it right all the time. You always need to be building upon that.
Curtis: Balance and then a healthy life. I definitely want to continue to see personal growth. I often tell my kids that the only person I'm in competition with is striving to be a better person than who I was yesterday. I also want balance. I'm at that place where everything can't be a priority. A lot of things that used to matter to me don't really matter anymore.
The Elevate program is being provided to couples across Georgia thanks to a federal grant received by the Fostering Relationship and Economic Enrichment Project (Project F.R.E.E.).
Project F.R.E.E. is a collaboration between the University of Georgia Extension System and community partners across Georgia. Our aim is to create communities where children are safe and thrive. To do this, our campus-community partnership initiative is mobilizing a network of organizations who connect, learn and collaborate to integrate healthy marriage and relationship education into existing community-based services across Georgia.
Taking Your Relationship To The Next Level!
Empower Yourself: Empower your relationship through empowering yourself
Lay the Foundation: Intentionally committing effort to lay the foundation for a lasting relationship
Enlighten: Sharing intimate information with your partner to enlighten each other about your relationship
Value: Value and respect the positive aspects of your partner and your relationship
Attach: Cultivating and maintaining friendship with your partner                                                     Tame: Cultivate strategies to manage your differences in healthy and safe ways                           Engage (and Wrap Up): Engaging social support, community ties, and sources of meaning